About us....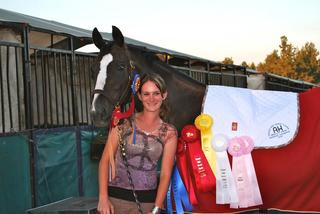 Stacie Zakskorn is a professional competitive rider, instructor, and trainer specializing in hunter/jumper. She is passionate about teaching and enjoys working with a variety of riders, from beginner horse lover, to somebody looking to compete or take their riding to the next level. She began riding at the age of 8, and quickly found a lifelong passion in riding she would never leave behind. Over the years she has had the opportunity to learn from many well known instructors such as George Morris, Rudy Leone, Alejandro Salazar, Nick Karazissis, and Martin Ridgeway. She successfully competes on the west coast h/j circuit. Stacie also has experience in starting and working with young horses on the ground and over fences. Her primary goals while teaching are to build strong riding basics while maintaining a fun and challenging atmosphere.


In October of 2012 Stacie fulfilled her biggest dream, and purchased her first home on nearly 6 acres. She enjoys spending every free moment with her animals on the farm. With the help of Stacie's life long friend Michelle, the farm was named 'Heavenly Oaks.' The property has many aged oaks and gorgeous evening sunsets, along with many loved animals making the property a very "heavenly" place. Stacie's current goal is to continue working on the property, so she can make it exactly how she dreamed.

Check back for all of the latest and greatest things happening on the farm!

---